I'll start by saying, "I'm Spanish."
I come from a household that does loud paints and colors everywhere so if anyone can stand to be offended of a wash--I can. We heard horror stories from our new neighbors (who by the way are super friendly and incredibly awesome) about the color scheme my home used to have. Do you think they're talking about the outside? No way, Jose. They are talking about the inside.
The home had a gosh-awful dark reddish paint everywhere. The inside of my house is already dark because we are surrounded by giant, mature Oaks. Couple that with wood flooring, wood cathedral ceilings, wood furniture, and wood cabinetry... That's just cryptic. I like the look of wood, but I don't like darkened spaces.
So, they told me the realtor had them repaint to a different color to sell the house. The prior owners confirmed that bit of news so I know it's not far-fetched. The new color is murky yellow. Murky Yellow deserves repetition. All this in a house that's already dark and full of wood. Now the interior of my house is murky yellow and deep red — everything just kind of blends together in one continuous flow of bile.
Not anymore.
I purchased a 5-gallon container from Lanco Paints. They are my go-to in paint. I love how thick the coat goes on and how long it lasts. I've been using them for almost a decade or more. They took a swatch of 'shattered glass' this white-grayish-blue toned paint and matched it. I prepped my space and started painting.
I absolutely love how immediately it transforms my space. I feel lighter. The area is brighter.
I'm so happy now I can burst.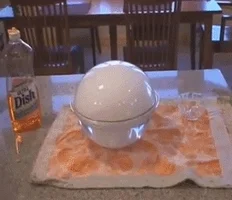 I could've gotten away with one coat because Lanco paint is just awesome like that, but I was afraid of that yellow bleeding through and haunting me in my dreams.
Y'all already know that our family will be in the most extended DIY of our lives, so bear with us while we continue these projects and update you sporadically. By no means are we professionals! Just a couple of cheap handy-dandy people. Hahaha!